Debian 11 Q4OS on Alienware M18 R1 Laptop
Here are notes on the trials, tribulations, and triumphs installing and using Linux on a brand shiny new Alienware m18r1 18" laptop.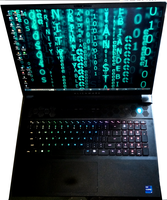 This has not been without challenges. I love the horsepower, 18 inch screen, and great klacky keyboard! However the plastic snap-tite style body keeps clicking apart every time I lift it. I am 6'7" and don't mind the 9+ pounds weight, it is a great workhorse. 
That being said, it is so bleeding edge, some of the hardware is not yet well supported in the Linux world. 
I can get Ubuntu 22.04 working on it okay, but as typically happens, both the power management and the video card support is very problematic. This is, as is typical, even worse on the more stable Debian 11 install.
I am definitely not getting the full features of this loaded system under either Ubuntu or Debian, but I am able to be productive, as long as I am jumping through a number of use case hoops to work around the current software driver shortcomings. 
 I can't use hibernation or sleep currently.
I can used the dedicated graphics of the NVIDIA GeForce RTX 4080 Laptop GPU/PCIe/SSE2 card, or the on board low-power chipset, but any attempt to use the Optimus style auto-switching between the so far leads to an unbootable system (locks up on boot). I've tried both opensource and proprietary drivers, and so far get the same results under both Ubuntu and Debian.
I had to notably upgrade my kernel in order to get this working as well as it is for Wifi, USB, keyboard lights, etc.
As of May 23rd, 2003, I'm on Kernel 6.1.0-0.deb11.6-amd64 for my daily work. 98% of my daily work is on this system running Debian 11 Bullseye via Q4OS and using the Trinity Desktop Environment (TDE)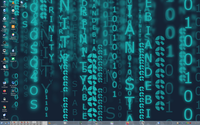 All attempts so far to utilize power saving auto-switching, hibernation, or sleep modes, leads to frequent hard locks, so it is still too buggy to use those reliably. I keep updating frequently as efforts are being made in the communities to get these working on this bleeding edge hardware.
I'll post updates on that progress and their solutions as they come up. Until then I have only about a 45 to 60 minute battery life while working, and at most around 90 minutes with the screen closed when running in power save profile both in the BIOS and at the OS level.
By the way, the BIOS is VERY robust with a lot of great configuration options.
 Alienware 11 M18 R1 2023 Laptop Specifications
Shipped with Windows Pro 11, setup with WSL, VitualBox, and dual boot of Debian 11 and Ubuntu 22.04 LTS. 
Killer Wi-Fi 1675i

NVIDIA GeForce RTX 4080 12GB G DDR6

1TB, M.2, PCIe NVMe, SSD

Added additional 2TB NVMe 

18" QHD+ (2560 x 1600) 165Hz, 3ms, ComfortView Plus, NVIDIA G-SYNC + DDS, 100% DCI-P3

FHD IR Camera

32GB, 2x16GB, DDR5, 4800MHz

13th Gen Intel Core i9 13900HX (24-Core, 36MB L3 Cache, up t o 5.4GHz Max Turbo)