Samsung 60" 7000 series un60d7000 Tuning the broadcast antenna
The antenna tuning feature of this TV is not immediately found. Here is information on how to tune the signal for your antenna (or satellite) connection...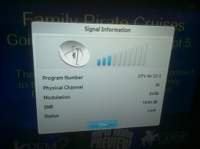 First, this is assuming the Samsung UN60D7000 is the model number. Other models might use the same or similar approach, but these instructions are only test on this model.
On the remote control press the blue "Menu" button.
Scroll down to the Support menu item (green question mark) and select it.
Scroll down in the blue menu to "Self Diagnosis" and select.
Scroll down to "Signal Information" and select.
It will show an animated satellite dish icon with some bars for signal strength (10 bars) and more specific signal strength below, inculding Modulation, SNR and SNR in dB.