Only one vehicle now exists that comfortably fits 6'+ Tall people including the driver: Nissan Armada / Infiniti QX-56
This news is a couple weeks behind in posting.. The boys are growing faster than expected. Now at 6'3", 6', and 5'9" (and myself 6'7") the Prius became too small in the back seat for people with above-average-length-legs. I hunted for a long time, tried out scores of vehicles of all kinds, and only 2 vehicles were even close to physically fitting 4 people my size, full size pickup trucks, and the Nissan Armada...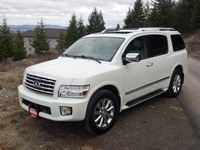 I wanted the Ford Flex to work, with it's better gas mileage, great handling, affordable price point, extra features, lots of seating, and the roomiest second row, but the driver's seat is smaller than the second row, and I barely fit, with the console hangle jamming into my shins like so many other cars that have those bloody center consoles. Only pickup trucks without the consoles do not do that. The Nissan Armada has a center console, but it is a truck, and so the console sits low enough to give enough room. Better yet, the Infiniti QX-56 actually has a smoother curve to the console so it is even more comfortable.
The problem is the pickup trucks and Armada/QX56 have terrible gas mileage, about an average of 15 or so (give or take 5), but THERE ARE NO OTHER VEHICLES AVAILABLE ON THE MARKET THAT CAN COMFORTABLY SEAT 4+ people that are over 6' (including the driver). Since 2002 all the vehicles are shrinking too much.
The crew cab trucks (the F-150 was the leading option with the best price, fuel economy with the eco v6, and space) can seat 4 comfortably, 5 a little cozy, and in a pinch squeeze in 6 if the front row is a bench. However, the back row does not recline which would be miserable on a long road trip, and the 6th person needs to be tiny, about 5' or less (Even my 5'5" girlfriend would only be able to tolerate for a short trip). So really it came down to the Armada, which seats 7 comfortably, with optional 8-9 depending on configuration and people size. Unfortunately it is several MPG less efficient, and costs about $15k more than the comparably equipped F-150. I was just going to have to go with the F-150 because the Armada was too expensive. But we were in luck, they had a pair of used 2010 Infinti QX-56's (the Infiniti equivalent of a loaded and then some, Armada). One was in better shape than the other, though they both had about 50k miles. The 2010 3g Prius I had was also 50k miles. I was able to get the Infiniti for the same price as the F-150 (maybe a little less).Better yet, the QX-56, even though basically a souped up Armada, is enhanced in many ways, especially the 400 HP engine! I drive it very mellow, but it's nice to have the get up and go when it is needed.
This is a wonderful ride. It is so comfortable while being rugged. It is a truck truck suspension and frame while handling well for city driving. I hope to have this vehicle for many, many years. I managed to get a warranty on it that is good until 100,000 miles (Same as I had for the Prius), so that gives me about 3 years of coverage. Now I won't need to pay for a rental on the road trips, and I can haul the kids AND their friends.
Better yet, I was able to lower my monthly payments and cut my interest rate by almost 2/3. The only pain is at the gas pump (of course).
Another nice thing, when it's warranty expires, is that I can actually work on this, since it is really just a truck in disguise (Nissan Titan), unlike the Prius where I could not work on most of it. My old ASE mechanice experience still has some applicability on this vehicle, so I can keep it going for many years (I hope).
Meanwhile Brennan is saving up to buy the '86 Bronco from me for $2,000 (he already has about $500 saved up). I won't need the Bronco anymore since the QX will do everything I had to previously split between two vehicles. When the snow was too deep, or I had to haul something to charity or the dump, or we had a camping trip with the canoes, or we wanted to go offroading, I needed to fire up the Bronco. The QX will do all of these combined now.
The on-board computer shows the fellow who owned it previously (just retired) averaged about 15-18 MPG. So far I'm only getting about 13 MPG, with about 2/3 city and 1/3 highway. On the highway it is OVER 20 MPG at least. Fortunately the elder boys want to use the bus, so I can save a few hundred per month in running them around but letting them have that freedom that they want and are certainly more than old enough to do so.
It's a great vehicle, and I'm very happy to have it, and should have many years of enjoyment.