RPG Research, RPG Therapy, & RPG Therapeutics sites completely removed from Google Search results (Suppressed)!
I have been running my small one-person operation since the 1990s, serving about 30 or so small communities, personal projects, and several small businesses of mine (mostly non-profits). The sites generally are #1 in all search engines for their relevant keywords over the years, no SEO trickier, just honest content. All of a sudden, all of my business listings with Google have disappeared. But much worse yet, all keyword results that used to point to my 30+ various different websites have also all been completely hidden away ( "suppressed"?) from any search results by Google (while still being #1 on all the other search engines). These were a generally number one results for years, and still are on all of the other web search engines (yahoo, bing, duckduckgo, etc.), but have now zero results to all of my busiest community and business sites! And yet results to old outdated servers are all that I can get to come up in Google results now.

Status Update 20181028 21:18
Thanks to helpful guidance from friend and SEO Wizard Michael Martinez ( https://www.seo-theory.com/author/michael/ ), he helped correct some of vocabulary and at least more accurately troubleshoot the symptoms, though we're not yet sure about the causation.
The domains/sites and keyword search results are not "gone", they are "suppressed". He verified that Google does have index entries for the sites, but that results are suppressed so that anyone using Google will not find ANY search results showing (because suppressed), listed in the Google Search Results page that point to ANY of the relevant websites www.rpgresearch.com, www.rpgtherapy.com, www.rpgtherapeutics.com, www.hawkenterprising.com, www.tolkienmoot.org, www.earpg.com, www.rpgorganization.com, www.rpgpublishers.com, www.techtalkhawke.com, www.rpgtalkshow.com, www.mistheroes.com, www.spokaneasl.com, etc.
And that the Google Business entries may be on hold pending review in 3 days (after the weekend). And that the Google Business and Google Search folks are separate entities that don't work together.
He said to just deal with no results for any of my sites or businesses and see if it clears up by Wednesday. If it doesn't improve by then, We'll dig deeper.
He stated that he suspects that for some reason my Google Business entries were in violation of TOS because in late 2017 Google starting to penalize companies by not allowing more than one business at the same physical address! And that may explain why all my Google Business entries were deleted (without any notification or warning!).
As for the keyword results, it is possible that maybe such a situation triggers a spam flag to the Google Search folks to suppress all results for the websites that were originally listed in those Google Business listings. 
He recommends I quit trying to add the sites to the business entries until after we see how things look by Wednesday (possibly sooner if it improves). To see why Google Business keeps deleting my attempts to add the relevant websites to each business.
Sigh
I'll post more updates as they happen!
Original Post earlier on 20181027 around 17:00:
What is going on???
If you search 
rpg research
or 
rpg therapy
All links to www.rpgresearch.com rpgresearch.com www.rpgtherapy.com rpgtherapy.com www.rpgtherapeutics.com rpgtherapeutics.com have been scrubbed from google!
They all show up fine under all other search engines, but nothing in Google!
My sites still are number one listings under Yahoo, Bing, DuckDuckGo, etc., but either completely gone are any links to my sites in Google, or buried very deeply!
 I couldn't find anything definitive on the web. Anyone have any idea what happened?
All of a sudden my business listings for my several small business (RPG
Research, RPG Therapeutics, Hawke Enterprising, Dev 2 Dev Portal,
etc.) either completely or partially were nuked by Google recently.
For the relevant key words, and their business name they showed up
number one in Google search listings for years. Now, the sites (mostly)
no longer not only show up on the side for the Google Business listing
on the side of a relevant search result, the websites have been
completely scrubbed from ANY of Google's listings, or now instead only
showing Facebook, Twitter, etc. listings, or old dead website listings,
or many pages down.
I had these listings for years, they were number one results, and they
were verified. Now they are all but gone.
I've started re-filling out the business google listings again, so some
of this may change by the time you read this email, but I thought you
would also be interested to hear about this situation.
Is this because of the SSL mandate (which I haven't had time to add
valid SSL certificates (only self-signed for now) to the brochure style
website pages)?
Is it because I have multiple businesses at the same address?
Is it because my businesses are both online and in-person, with many
different locations globally?
Is it because I have irregular hours?
Something else?
I am just grasping at straws. I have no notification from Google that
they removed my listing (other than always being pestered by third
parties trying to get me to pay to update my listings that were
already up to date). When I log in, there is no notification that they
removed the Google Business Listing, just a prompt to create a new
listing.
When I add the new listing, it shows up that the business is already
verified!
But, when i try to add my website, it shows "pending", then a few
minutes later it is crossed out!
I have tried both http://www.rpgresearch.com (for example) and just
www.rpgresearch.com (and both keep getting removed.

Anyone aware of a new policy or bug that might explain what is going
on here?
RPG Research - http://www.rpgresearch.com
RPG Therapeutics LLC - http://www.rpgtherapy.com or http://www.rpgtherapeutics.com
Hawke Enterprising d.b.a. - http://www.hawkenterprising.com
Dev 2 Dev Portal LLC - http://www.dev2dev.com
There are many other websites and communities I run and host, but these are the only ones I had Google Business listings with.
Sites Not Suppressed
All of my sites under the same domains that are still running on my old server at my house denoted by www2, or on the old broken godaddy shared hosting. The ban seems to only be the new godaddy dedicated Plone 5 sites.
Interestingly, sites of mine that did not get "suppressed" by Google:
www.merp.com
www.syntheticzen.com
www2.rpgresearch.com
www2.techtalkhawke.com
Screenshots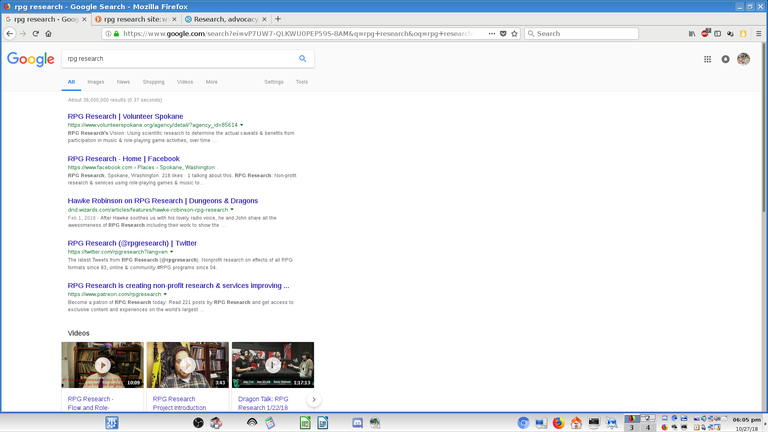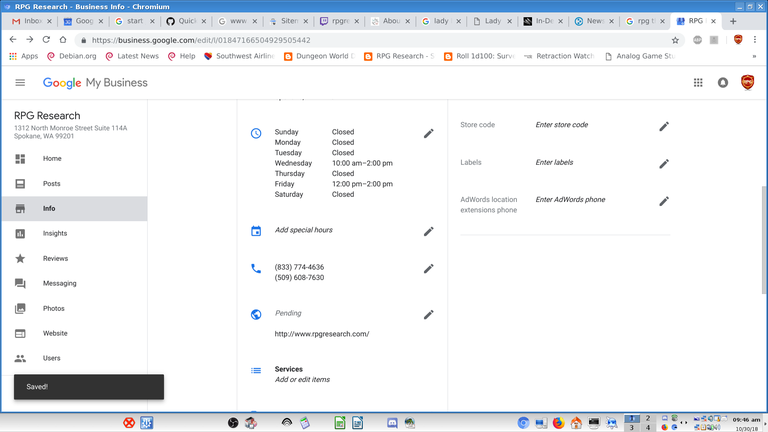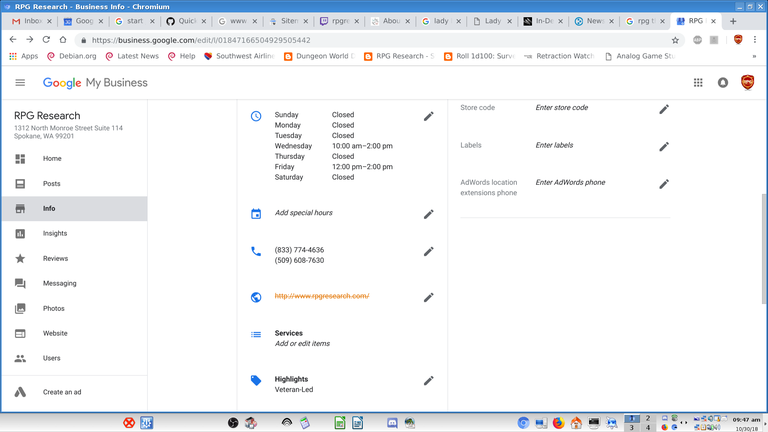 Google discussions:
Google Business:
https://www.en.advertisercommunity.com/t5/Basics-for-Business-Owners/Suppressed-Blacklist-Shadowban-Glitch-Can-t-add-my-websites-it/m-p/1839690/highlight/false#M92276
"