Ea Games Origin BF3 Battlefield 3 Proxy, double NAT, Dans Guardian, Squid, server outages
My son pre-ordered the limited edition bundle of BF3, and I actually waited in line to get it at the midnight release.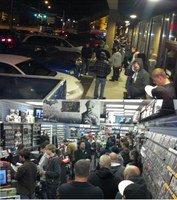 Might as well have gotten sleep. The Ea Origin servers didn't make it possible to log in until around 9:00 am Pacific time. The good news is that Ea's (awful) Origin service at least is better than Steam in that it doesn't block Proxies (Steam does). Not only that, it works behind double NAT, etc. Of course this all requires proper configuration and far too many ports to be opened. Here is information on how to make it work on a fairly complex setup...