Debian 12 Q4OS on Alienware M18 r1
Notes on attempting to get Debian 12 and Q4OS 5.2 working on an Alienware M18 r1.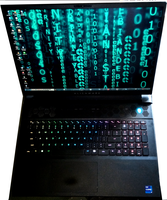 F12 to get One Time Boot screen and select the bootable USB thumb drive image for the OS install:
Debian 12 bookworm install USB: Attempt to boot full boot USB fails after selecting graphical installer (hangs).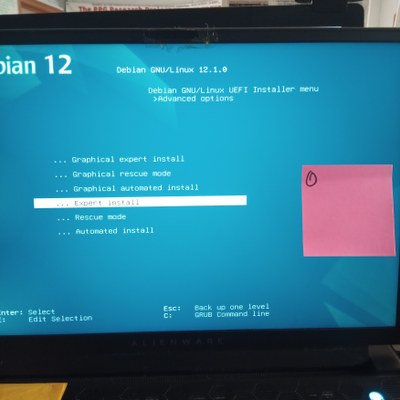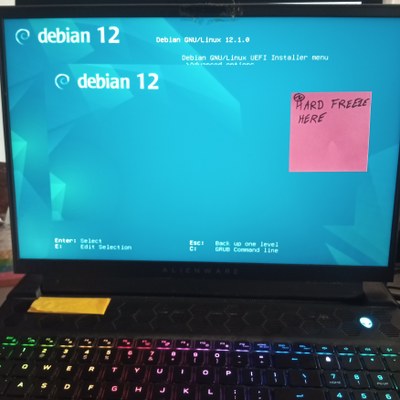 Q4OS 5.2 TDE Install USB: Attempt to boot fails after selecting Classic Installer (hangs).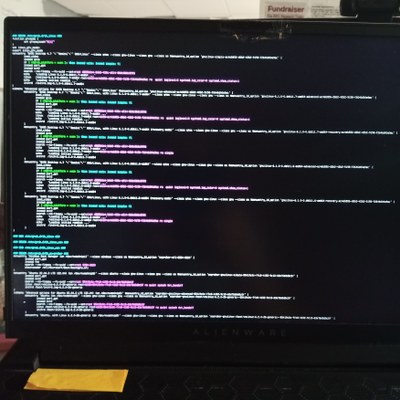 Greetings,
I am trying to get Debian 12 to install on an Alienware M18 r1.
It is hanging with a hard freeze during first steps of install menu.
Completely unresponsive, have to hold down the power button for 5 seconds to kick it in the teeth to power off.

I created the full installation .iso to bootable usb with Rufus, tried both the iso mode and the dd mode, neither made a difference.
I hit F12 at boot, and select the usb.
It loads the menu with the different installation options.
No matter which option I select, with 2-5 sections after selecting the system hard locks, caps lock doesn't respond, nothing.
It is still showing the initial menu selection, I never see any console text.
System specs:
    Killer Wi-Fi 1675i
    NVIDIA GeForce RTX 4080 12GB G DDR6
    1TB, M.2, PCIe NVMe, SSD
    Added additional 2TB NVMe
    18" QHD+ (2560 x 1600) 165Hz, 3ms, ComfortView Plus, NVIDIA G-SYNC + DDS, 100% DCI-P3
    FHD IR Camera
    32GB, 2x16GB, DDR5, 4800MHz
    13th Gen Intel Core i9 13900HX (24-Core, 36MB L3 Cache, up t o 5.4GHz Max Turbo)

I was able to easily install and use Ubuntu 22.04 to test, but I really, really, really do not want to have to use Ubuntu.
There is a currently working Q4OS Debian 11 install on this system, and I want to replace with Debian 12 (and then I'll upgrade to Q4OS 5.2 once I get the upstream working, I get the same boot problem with Q4OS install usb as well).

I expected this new a machine was going to be challenging, and I appreciate any suggestions to try getting at least far enough to get some error messages or progress message to track down the hang.

I have tried changing the default UEFI boot device from RAID to regular ACHI (even though it is working with RAID mode for both Ubuntu and Windows 11), but that made no difference.
I have tried adding nomodeset via editing of the bootup, but no difference in result
I have tried adding nouveu,nomodese=0, with not difference in results

What are some other things I could try to get this further along?
Thanks kindly!

I

Photos attached of the two boot screens. Also of existing grub for currently working Q4OS Debian 11 and Ubuntu 22.04 installs on the same system.